Guitar Hero Interviews
********
JOSE FELICIANO AT THE TOP OF HIS GAME TALKS TO US ABOUT HIS MUSICAL JOURNEY
 By: Rick Landers
Images: Courtesy of Susan Feliciano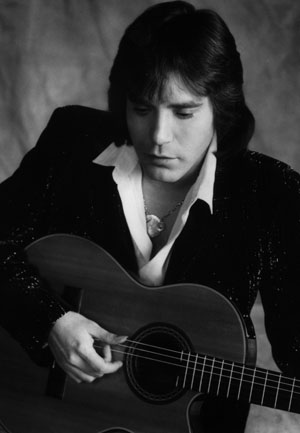 In the world of guitar there are a handful of legendary players with the skill, the talent, the discipline and the magic to move mountains in all styles of music. Jose' Feliciano runs with that pack, and on any given day he just might be the leader. He can vamp Hendrix, lay down Atkins riffs, intrigue us with Segovia classical moves, play flamenco with a velvet crush, light our fires and adorn our Christmas spirits with seasonal hipness and universal love.
Feliciano is unbound when it comes to music. He explores and devises with his expansive musical curiosity and his inventiveness that shape shifts others songs into ones with his own melodic stamp.
Take his thoughtful release of The Doors mega-hit, "Light My Fire", a track that that few would even attempt to match, let alone change its mood to something dreamlike and soulful. He stretches the vocals and reaches deep to draw out emotional riches, extracting a treasure trove of sound that makes the song his own.
And, then a few years later, he released the the universally uplifting "Feliz Navidad", a bouncy 1970 track that's become the most played Christmas song in the world. And then there was the controversial day when he shook America a bit when he honored the country with his non-traditional, yet inspiring version of "The Star Spangled Banner" at the 1968 World Series.
Blind from birth, José Monserrate Feliciano García moved in his own world, discovering the intrinsic beauty of music at a young age. In 1962, he and his The Modern Sound Trio comprised of Bobby Grogen (drums), Bliss Rodriquez (pianist) and Jose' (guitar) made it to television's The Amateur Hour, and he would later find himself with some other gifted players to form a tight knit group with Ted Arnold (bass) and Paulinho Magalhaes (drums/percussion). The three musicians formed a brotherhood of sound, casting their sonic net around the songs of The Beatles, Gerry and The Pacemakers, The Mamas and Papas, as well as songs by Feliciano, and none far from a hint of flamenco.
At three Jose' was thumping a cracker tin, then later would learn to play accordion. But, guitar would steal his heart away and the world would soon be grateful for this new bond. After a few years making records, such as his "Everybody Do The Click" RCA recording from 1965 and not making a big dent, his hard work and determination hit pay dirt when he released the single, "Light My Fire" that earned him a gold record and a couple of Grammy awards (Best New Artist of the Year and Best Pop Song of the Year). He would also tend to his Hispanic roots and would have HIS FIRST huge hit single in Spanish, "Poquita Fe" ("Little Faith"). More awards and international accolades followed, as he would receive scores of honors, including one it's said he most covets, his 2004 Helen Keller Personal Achievement Award.
In the business for over half a century, Mr. Feliciano continues to churn out music for the world. Most recently, he's released five (!) new albums that can be found HERE, along with a few song samples to whet our musical appetites. And you'll want to see if he's showing up near your town soon while he's on tour HERE.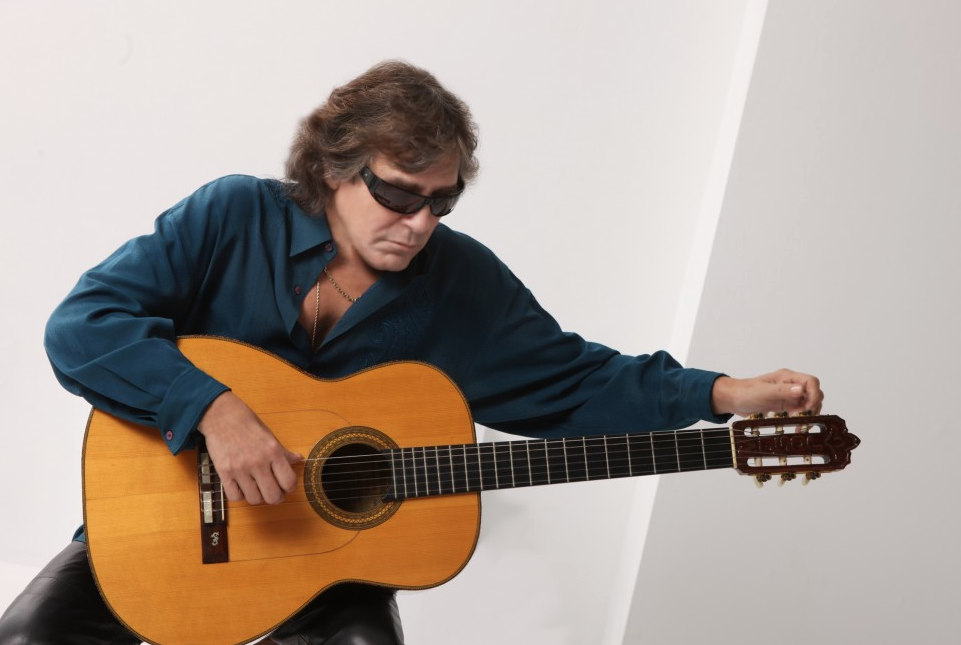 Rick Landers: A short while ago you went to the National Museum of American History and where you welcomed 20 new American citizens to our country, from I believe 17 countries. Now how do you prepare yourself for what must have been, I would assume an emotional experience? What did you want to convey?
Jose' Feliciano: Well, I wanted them to know that being made citizens of this country was a great thing, that this is a great opportunity for them, that this was or is the freest nation in the world and that they had to learn to speak English, very important. If you're gonna migrate to a country, learn the language and that was very important and, of course, a lot of them sort of spoke English.
But, I told them about me, that I was an immigrant, of course migration for me was a lot easier than for these people because Puerto Rico is part of the United States. So, when I migrated to America in 1950, then it was very important to me because where I came from I couldn't get let's say the education that I got coming to New York and living in New York.
Rick:  Sure. You lived in The Bronx?
Jose' Feliciano: I lived in The Bronx, but I lived more on 103rd Street on Columbus and Amsterdam Avenues. I lived on 103rd Street and I lived in a small apartment that my aunt donated to my parents and myself. We were five of us, my parents and three brothers.
Rick:  Wow, I would think that would have been a fairly tough situation for your parents, to do the migration with three kids, but lucky that you had your aunt.
Jose' Feliciano: Well, my aunt had already been in this country for a little while and she was a seamstress. That's how she made her living. She was a seamstress and she also made clothes for men. She built a small empire!
Rick: Good for her, and good that she loved your family so much that she was willing to support you in your move.
Jose' Feliciano: I will always be grateful that she did that.
Rick:  Yeah, that's sweet. I went through your autobiography and a lot of different things, and went through a lot of music, so this is gonna be a little spotty in places and there's no way to get — your whole background unless there's a book out.
Now, you really brought soul to The Doors' "Light My Fire" and I swear whenever I sing it now it's your version I sing. I bet it's pretty much the same with most people who know both versions. Did you ever talk to The Doors about it and what did they think about it?
Jose' Feliciano: Well, from what I hear because I've never talked to them in person, but I think they liked that I did it different, I wasn't trying to be The Doors and I took it out of wherever it was and I played it the way I would perform it in coffee houses and around people. My producer, he liked the way I did it and suggested that I record it. Our single that I came out with from that album was "California Dreamin'", "Light My Fire" was on the other side.
Rick:
  Yeah, I remembered you doing "California Dreamin'". Now working through anything like this interview, I begin with a structure then more often than not it tends to unravel into a conversation much like playing an improvisational tune and sometimes sometimes it's better to find the structure again and go back to the questions, but then sometimes you go off on tangents and it takes on a kind of a new world of its own and most of the time I think it's better and you get better moments, like in music. Do you find that to be the case or have you ever gotten lost in the moment when playing improvisationally and did you find you needed or wanted to steer back to the fret board for grounding or your modes or whatever?
Jose' Feliciano:
I was always a good improviser. I could always improvise my way out of anything, you know, when it came, it came.
Rick: I know you learned guitar when you were young, but I think you first started off on the accordion, right?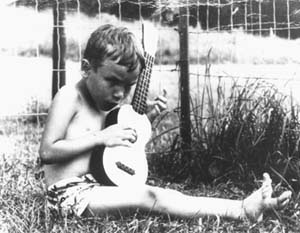 Jose' Feliciano: I played the accordion from the age of seven until I was 14. I got into the guitar when I was nine and goodbye accordion!
Rick:  So, who were you listening to when you were nine years old?
Jose' Feliciano: When I was nine years old I was listening to people like Chuck Berry or rock 'n' roll,  because that's what I was into and then I would listen to people like Barney Kessel and Elias Barreiro.
Rick: Yeah jazz, yeah.
Jose' Feliciano: I was into jazz and Howard Roberts, great guitarist and Charlie Byrd of course, he was great.
Rick:  Yeah, Wes Montgomery?
Jose' Feliciano: Wes Montgomery, definitely. All those great guitar players, Johnny Smith, who was a great guitarist. So, I had a good education, a lot of my friends were black, so they were the ones that turned me on to jazz really and rock 'n' roll, because a lot of the rock 'n' roll groups were black.
Rick:  Oh! Yeah. It was like Louis Jordan and Chuck Berry, Little Richard.
Jose' Feliciano: Yeah, you've got it and then later I listened to Keith Richards as I got older, with the Rolling Stones, he did some very good things.
Rick:  He's mostly thought of as I think a guy who uses his chords, but he's got some pretty good licks in there, as well.
Jose' Feliciano: Well sure, I mean, the intro of the "Satisfaction", for example, will always be something that people will know.
Rick:  It's real simple and he used that fuzz tone, so it was pretty cool. Tell us a little bit about your uncle who gave you your first guitar and what was he like and did he continue to inspire you?
Jose' Feliciano: Well, this wasn't my uncle. My uncle played a Puerto Rican instrument called the Cuatro which has ten strings. The guitar was given to me by a friend of my aunt. He saw my interest in music and he came by one night, I think it was during the day, he came by and he brought a guitar that he had gotten me. It was a ten dollar Stella and he got it from a Jewish pawnshop.
Rick: They tended to have really high strings.
Jose' Feliciano: Well, yes. Mine was okay, but I knew I needed a better guitar later. Later I acquired a Harmony and that wasn't bad actually, going to school and putzing around. That was a good guitar, the Harmony. And then after the Harmony I started making a little more money and I got myself a requinto which is for playing Spanish music and stuff like that, which was made by BM Ronda, he made great guitars! 
Rick: There a few, was that in New York?
Jose' Feliciano: That was in New York, all of that was in New York and then in 1967 I moved to California.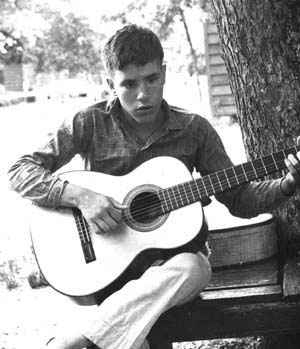 Rick: When you were talking about New York, I had a guitar made by a guy named LoPrinzi, Augustino LoPrinzi. Have you ever heard of him?
Jose' Feliciano: No, was it a classical guitar?
Rick: Mine was a dreadnaught, but he and his daughter, Donna, are making classical guitars now down at Florida. Apparently they're expensive, but they're brilliant guitars. When he was in New Jersey  he was working out of a chicken coop and I think later a barber shop when he started, but I had one of his guitars. What are you playing now as far as in the studio? What do you noodle around with at home?
Jose' Feliciano: I play a Laguna guitar and I also play a Candelas guitar, a guitar that I love the most, because Mr. Flores (Candelario Delgado-Flores: 1910-1983) made I think by far some of the best classical guitars out there.
Rick: And you just gave yours to the museum, right?
Jose' Feliciano: I did. I gave them the guitar that I used to record "Light My Fire" and the guitar that I used to play "The Star Spangled Banner".
Rick: Was it hard to give up?
Jose' Feliciano: Yes.
Rick: I bet. When I talked to Steve Cropper a few weeks ago, I think he gave The Smithsonian one of his Telecaster's that he used on "Green Onions" years ago, so it must have been tough.
Jose' Feliciano: Steve Cropper is one of the great guitarists I did two albums with, no I did, let's see, my first album with him was an album called the Memphis Menu, my second album with him was Compartments where I played with Leon Russell, Seals and Crofts, Loggins and Messina, I think that was it. Oh, and Leon Russell. Well, Leon just played piano. We had Leon and we had Bill Withers.
Rick:  Wow, all those people are brilliant.Well, it's interesting and I know that a lot of the stuff that you've done has been really under the radar and nobody's really heard about it, like you playing on a John Lennon's album.  I think Steve Cropper played on it as well, right? On his Rock 'n' Roll album?
Jose' Feliciano: Sure, so did Jessie Ed Davis, played guitar on it.
Rick: I think Leon Russell was on that too, wasn't he?
Jose' Feliciano: Well, he also might have been on it, yeah, but John Lennon was really drunk in the album.
Rick: Was he?
Jose' Feliciano: Yeah.
Rick: That was his low period. I think he was probably not with Yoko at the time?
Jose' Feliciano: Alright, I don't think he was, I think he was with May Pang.
Rick:  Yeah, and with Harry Nillson.
Jose' Feliciano: Harry Nillson, wrong person to be with. Harry was a nice guy, I knew him and I never got to really hang out with him, but I liked him because he's super talented and he wrote some damn good songs.
Rick: Yeah. Now you were also in a Joni Mitchell album, right, Court and Spark?
Jose' Feliciano: I was.  I played on "Free Man in Paris".
Rick: Yeah, okay great song, I just listened to it and what I found interesting is that was an Asylum record she was on, but weren't you with RCA?
Jose' Feliciano: I was with RCA, but I thought I was going to do a lot more on the John Lennon album, but it turned out that I didn't. I heard the music going next door and I said, "Let's go over there for a moment.", and there was Joni Mitchell open tuning in a hall, and so I was worked with Larry Carlton, whom I also like very much, so I got to be on that album.
Rick:  Wow, so what studio was that?
Jose' Feliciano: I think it was Studio B.
Rick:  In L.A?
Jose' Feliciano: In L.A.
Interviewer: Was it in an Asylum studio or…?
Jose' Feliciano: No, it was RCA, I feel it was on a RCA, it was with Henry Lewy, was the producer.
Rick:  Nobody's ever heard of that.
Jose' Feliciano: I played in all of that. I kind of feel like I was part of a certain group.
Rick:  Well you were, especially with Steve Cropper, you know, the Stax guy.
Jose' Feliciano: Yes. Well, you know Steve also at the time was in love with a lady by the name of Brooks Hunnicutt. She sang with Roy Orbison. She sang with a whole lot of people, very nice girl, very nice. I think she was in her forties, when she was hanging with Steve.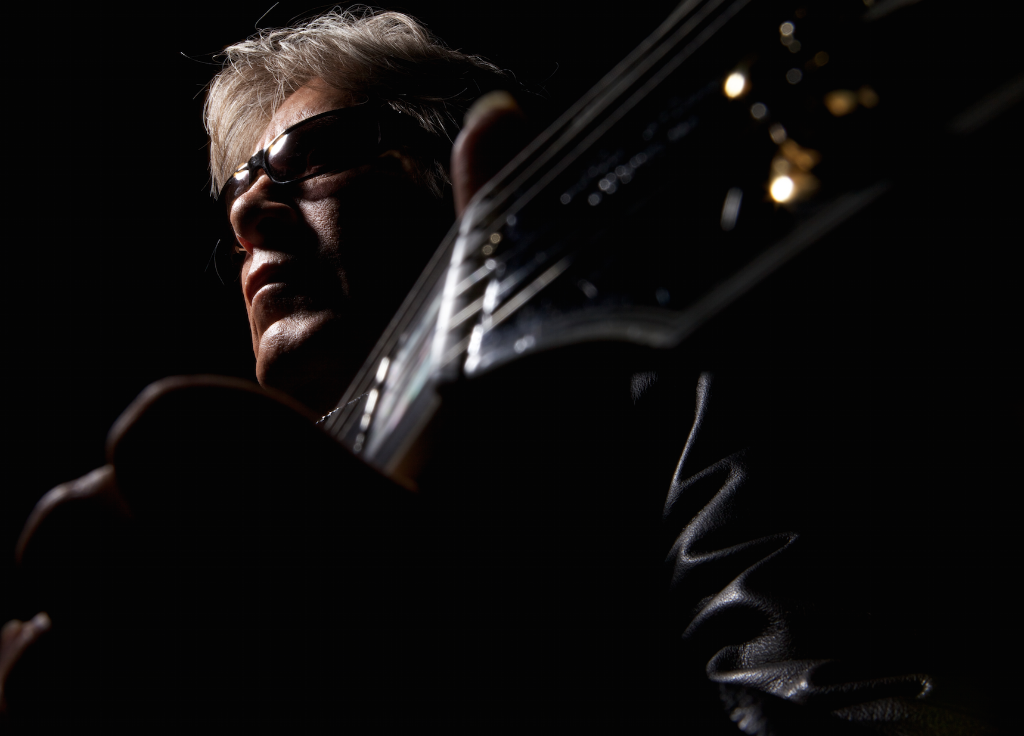 Rick: You're not known just for your music, but you're also known for your quick wittedness and good humor. I hope that it has prevailed in tough times. How has it best served you?
Jose' Feliciano: Well, all I can say is, I don't know, it served me in the sense that my humor keeps me level. People don't understand my humor, but it keeps me level. It really does.
Rick:  Yeah, it keeps you centered?
Jose' Feliciano: Yeah. It is like sometimes if I bump into someone, you know, and they say what's the matter are you blind or something I'd say, yeah, what's your excuse?
Rick: There you go, you're being Jose'. Talking about centeredness and being grounded, there's something that I read about and actually I watched the video and while you're introducing your instrumental "Affirmation", you mentioned a book The Autobiography of a Yogi. How did that or does that still inspire you?
Jose' Feliciano: Definitely. I've always been very curious about the Hindu religion. I like some of the aspects of it. I like transcendental meditation, I enjoy that. I enjoy that you have to spend time with your mind and free it from other things, and that has always interested me.
Rick:  Have you heard of a book called Optimal Flow?
Jose' Feliciano: No, I haven't.
Rick:  Optimal Flow was written some time ago by a Czechoslovakian guy and it's all about the beauty and how you come into a balance when you do something, like when you're turning a wrench and you know you're right at the right spot and  it just feels right, and when you hit the right note, but it's about the science that's very Zen-like.
Jose' Feliciano: Sounds good.
Rick: With respect to The Autobiography of a Yogi, I was reading that Steve Jobs of Apple read it every year to be inspired. Do you still recommend it to people?
Jose' Feliciano: I do, I do. It's like the Bible, in a sense. You know how the Bible, you can read it and read it and it never gets old?
Rick: Sure.
Jose Feliciano: You always find something inspirational and it's the same with Autobiography of a Yogi. It always inspires me that there could be people on this earth like this man, I wish I could have met him. When I'm in California I go to the self-realization citizenship place that he built in California.
Rick: I'll pick up that book about that Yogi, I've heard about it before and I'd seen the cover of it, But I never opened it up to read it, but I'll do that now.
Jose' Feliciano: Yep, you'll enjoy it.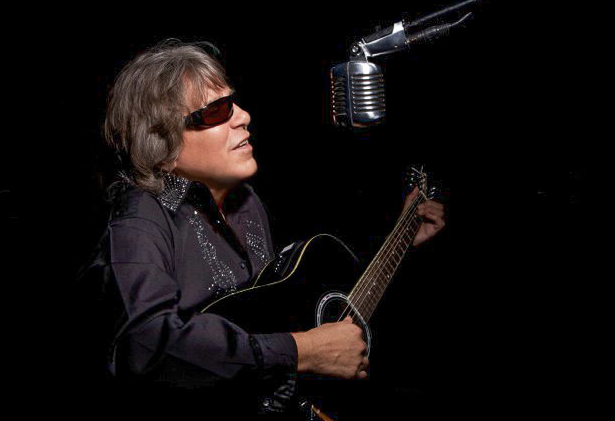 Rick:  Okay, thank you. You met Jimi Hendrix at one point at The Speak (Speakeasy Club, U.K.), what happened there?
Jose' Feliciano:  I met Jimi and he heard me play on my acoustic, because I didn't play electric then, though I could and so I met him and he met me and he said he thought that I was really good on the guitar and that was it. I never thought anything of it. I liked Jimi when I met him, he was a big guy, he was a tough guy, but a nice guy. I wasn't surprised by the success that he obtained, I mean all you had to do was listen to that guy play and listen to how he would invent his own electronic sound, such as his delay he did with two machines going at the same time, I think. He was an innovator.
Rick: Yeah, he was pretty fascinating, innovative, an inventive guitar player and I was talking to Dave Mason and I don't know if you know that Dave Mason actually did the opening chords to "All Along the Watchtower", the 12-string acoustic on that is Dave Mason.
Jose' Feliciano: Oh! No, I didn't.
Rick: Yeah, so it is like, oh really, yeah it's pretty cool.
Jose' Feliciano: And he played it in C-minor.
Rick: Well, you would know. Let's get into something a little bit more serious. Puerto Rico has suffered some serious devastating consequences and a friend of mine goes down there probably every four or five months to help out a friend  in the aftermath of the hurricane. Have you been able to reach out to those Americans who need our help down there or have you thought about that?
Jose' Feliciano: Well, I did a concert in Puerto Rico in May of this year (2018).
Rick:  Oh! Did you, okay.
Jose' Feliciano: Yeah, and I tried to in my own way, help them out. How can I not, it's my country, you know, how could I not help? I try and help it so, I hope this year will be more merciful to them.
Rick:  Yeah, me too, and I hope we do more from the State-side as well, so I think we need to do more.
Jose' Feliciano: You know that one thing people don't know just like I'm under the radar with what I do sometimes?
Rick:  Yes sir, what's that?
Jose' Feliciano: That's when Puerto Rico needed help, Donald Trump gave 20 million dollars out of his own pocket, not, you know.
Rick: Really?
Jose' Feliciano: Yep, and people are very quick to not speak well of Donald Trump. So, the good that he does gets hidden out there over the other things, but I think and I'm not ashamed to say this that Donald Trump has done good for the country. The economy is better, people are putting more money into their pockets, you know and that's all I can say and I think people should give him a fair chance, wait until his term runs out and then on election time if you didn't like what he did, complain then.
Rick: I had to laugh, I was watching a scene of Fargo where you're performing and Steve Buscemi I think, his character is complimenting you and talking to this girl and then he blurts out really loud, asking for a drink and it was like, majestically, ironically crass, It always makes me laugh. So what did you think when you saw that scene? You're playing and then he comes over with this, "Give me a drink!" [Laughs]
Jose' Feliciano: Yeah, and he says,"Well you know you're in good company when the artist is Jose' Feliciano." [Laughs]
Rick:  Let's talk a bit about patriotism. It can be an awe inspiring feeling, but it can also be very complex and when you played your what I felt was a soulful personal version of the "Star Spangled Banner" in '68 in Detroit, were you prepared for the controversy it unleashed? And how did you kind of steal yourself to hold true to the song and to your own feelings and to your own patriotism?
Jose' Feliciano:
Well, I wasn't prepared for what happened because that wasn't my intention. My intention was I was invited and I wanted to do something new with the anthem, because I too was kind of tired of people singing it and the anthem wasn't even finished and people were already clapping. They wanted it to be over.
Rick:
  Yeah, true.
Jose' Feliciano: And I didn't. I wanted to give the anthem respect and after all this was my country and I was grateful for everything this country has done for me and I feel that today, I love America. There's some mistakes that I don't like about America, but it shows that we're human, it's not like a Russian scene taking the will out of people, and so when this happened you know, I was shocked that I made something like this happen. Veterans were throwing their shoes at the TV and that kind of thing and that shocked me!
Rick:  Well crazy, yeah.
Jose' Feliciano: Sure.
Rick: And once you did it, I thought it was great. I recall you also did a song, it was like (sings) "Listen to the falling rain, listen to it rain."
Jose' Feliciano: That one I wrote. I wrote that one in 1969.
Rick: 
 I was listening to another song of yours and it was about your pup named Trudy and it's called "No Dogs Allowed".
Jose' Feliciano: Sure, yeah, that was back in the Sixties. When did I write that? I think I wrote it in 67', but I recorded it in 69' on my London Palladium album.
Rick: What happened there in the U.K.?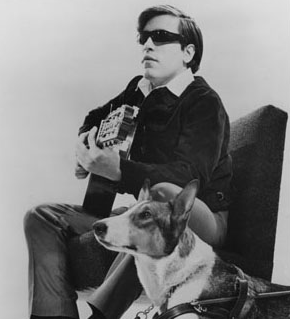 Jose' Feliciano: Well, my dog was not allowed in the country, I had to quarantine her and she was alright, but I know she missed me. One good thing about it is that England, because of my song I feel changed the laws in England, so that blind people could travel with their dogs in and out of the country.
Rick:  That's terrific. It's nice to have that impact on society.
Jose' Feliciano: It may not have done it for me, but I was glad for other people.
Rick:  Well you certainly surfaced the issue and wasn't that like a number three hit in the Netherlands? So it was being heard and you were also on Pirate Radio, I think, right?
Jose' Feliciano: I was, yes I was. Oh boy, I got on radio with Alan Black.
Rick:  Was that BBC?
Jose' Feliciano: No, no, it was Laissez Faire, it was Laissez Faire my wife says. I don't remember, but I had fun because the kids, that was the way kids revelling people because they didn't like the BBC, the BBC was so strict and so whatever, you know.
Rick: Yeah. So did they ban your song?
Jose' Feliciano: No, I don't think so.
Rick: I see your wife, Susan, is from the Detroit area.
Jose' Feliciano: She's a Michigander.
Rick: Yeah, me too. So how did you meet and were you immediately smitten by what I would call the Midwest charm of Michiganders?
Jose' Feliciano: I was. When I met her in 1971 I found her quite attractive and we began talking and then from talking we saw that we liked each other and we've been living together since 1973, I would say. I married her in 1982.
Rick: So you had a long courtship. I had seven years, yours is like eleven, right?
Jose' Feliciano: Yeah. Well, I had to make sure, you know?
Rick:  Yeah, me too. You beat me on that one. Okay, but didn't Ernie Harwell, didn't he introduce you too?
Jose' Feliciano: He did. Ernie Harwell was the culprit. I love Ernie Harwell. I would like to think that's he's in the broadcaster's Hall of Fame because he was a voice of the Detroit Tigers. He really was.
Rick: Yeah, I think he actually is in that and I remember him saying, "That one's long gone!"
Jose' Feliciano: He was wonderful. He really was. I knew him well. And he's always with me in spirit.
Rick:  That's good, that's nice. So, when you write a song how often do you get it right the first time, like sort of out of the box or do you keep scratching at it, editing, playing, until you feel it's fully baked.
Jose' Feliciano: Well, in the old days, what I would do is I'd go into the studio and I recorded a track because that's what would come to me first. The rhythm track and where it went. Once I did that then I'd add bass to it and percussion and see how it came out. If it came out good, then I'd work on the lyrics later.
Rick: When I write songs I sort of noodle around and then I just throw in garbage lyrics. So, I'm just trying to get some words in there and  not necessarily the words that end up in the final song. Do you do that sometimes?
Jose' Feliciano: No, I usually know where I want to go. Well in the old days, what I would do is I'd go into the studio and I recorded a track because that's what would come to me first. The rhythm track and where it went. Once I did that then I'd add bass to it and percussion and see how it came out, if it came out good then I'd work on the lyrics later.
Rick: Okay, well it's different. People do it different, they come at different angles and sometimes people use more than one angle coming in how they write songs. Have you ever written a song just on the spot, it just came to you and it was done?
Jose' Feliciano': Yes. For example, "Feliz Navidad" only took really 30 seconds of time.
Rick:  Really?
Jose' Feliciano: Yep.